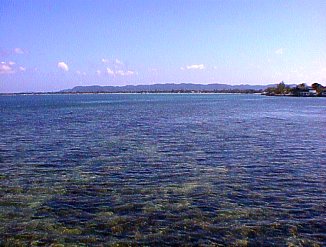 Sea and Mountains
January 21st, 1998
The crystal clear Caribbean caresses the soft white sandy stretch, which merges with the Great Morass and makes it's way to the majestic mountains of Westmoreland. This is Negril Jamaica! (If you enjoyed today's picture, you can download a larger version suitable as a Windows Wallpaper background - click here or on the picture mon!) Party news: Sunday's Super Bowl Sunday Party at Eddie's Tigress II looks like it might be the place to see the big game mon! We have been receiving challanges from some Denver fans, let's hope there is enough Packer spirit to make it a contest! This week's Thirsty Thursday Pub Crawl will start, as usual, at Tenby's Tigress 3 - R Bar for sunset. Around 7:30pm we will be crawling to Travellers Beach Resort for a party on the beach! After the Crawl, Cheap Bite has invited us to the Capleton - Sizzla Concert - which will be discounted JA$100 for anyone this week's Pub Crawl! Yah mon! Back Ah Yawd moves, Delroy makes his way to Mama B's. Click on Back Ah Yawd to see what he has to say for today.
At 8:46am, warm and beautiful. The temperature is 78° F, 25° C.
Click here for Translation






© Copyright 1998. Beingee's. All Rights Reserved.