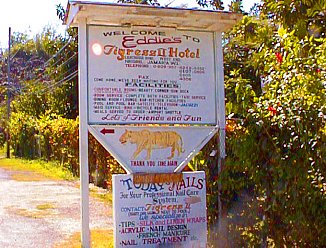 Super Bowl Sunday Party
January 19th, 1998
Because of the quantity of Green Bay Packer fans heading to Negril this next Sunday, we have decided to throw a Super Bowl Sunday Party at Eddie's Tigress II on the West End. Eddie volunteered his jerk pit and with the satellite TV link, we will have "no problems" watching the Pack beat, opps, I mean play the Broncos for the championship of the NFL. Come and join us, we will be having our Negril Chat Room open and have a live audio feed from our own version of the Half Time Show! Join us on Sunday - a special invitation ios extended to all those staying in an all-inclusive hotel to come on out and meet us for the big game! Back Ah Yawd moves on to Marva's Seafront Restaurant, Delroy talks about another big party coming up with Kenut. Click to find out more mon!
At 11:56am, nearly noon. The temperature is 85° F, 29° C.
Click here for Translation






© Copyright 1998. Beingee's. All Rights Reserved.