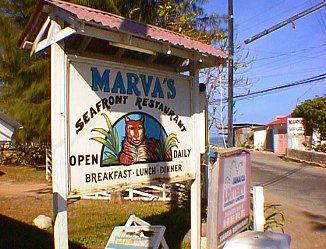 Marva's Birthday Bash
January 20th, 1998
In addition to this Sunday's Super Bowl Sunday Party at Eddie's Tigress II, there is more party news today! Marva's Birthday Bash is happening on February 13th right at Marva's Seafront Restaurant on the West End at Tigress Lane. We will be there mon - join us for Marva's 40th Birthday! There is always something happening in Negril, be sure to check out the Entertainment Listing for the latest Shows & Events. For this week's Thirsty Thursday Pub Crawl, there has been a change. We will be crawling to Travellers Beach Resort instead of Cheap Bite. This is because of massive concert planned at Cheap Bite on Thursday - which will be discounted JA$100 for anyone attending this week's Pub Crawl! Yah mon! Cheap Bite will be rescheduled for another week. In Back Ah Yawd, Delroy talks with Kenut at Marva's Seafront Restaurant. Click on Back Ah Yawd for more.
At 9:50am, perfect morning. The temperature is 80° F, 27° C.
Click here for Translation






© Copyright 1998. Beingee's. All Rights Reserved.