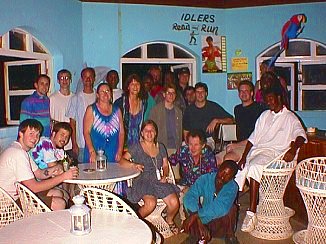 We Are Started!!!
January 15th, 1998 8:39pm
We are trying to come to live tonight - check us out at the NetShow address listed on the Negril Message Board. As promised, we are announcing the winner of today's contest - you got it Heather! Pick up your free drink at the next Pub Crawl you attend mon! Join us live tonight from Drumville Cove - in both the Negril Chat Room and live in an audio broadcast via Microsoft's NetShow. Yah mon! Back Ah Yawd continues with our very special guest, Muma Leck. Click on Back Ah Yawd for the episode!
At 8:39pm, we are live from Drumville Cove! The temperature is 80° F, 27° C.
Click here for Translation






© Copyright 1998. Beingee's. All Rights Reserved.