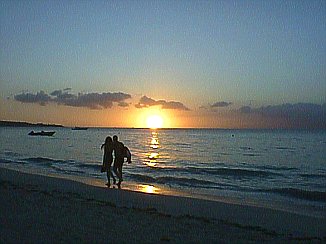 Sunset of the Week
January 18th, 1998
Today we have our Sunday Sunset of the Week. It was taken either Monday or Tuesday, I'm not sure which day. But it was taken on the beach in front of Rondel Village. Mother Nature really knows how to end the day right! Since we've mentioned Rondel Village, be sure to check out the Specials section (click on Specials above or below, or on Current Specials on the Main Menu). Rondel has some great room specials throughout 1998! Yah mon! Back Ah Yawd is on break today, but will return - no problem! In the meantime, check out our complete 1997 Index page - you are 3 clicks away from any Negril Today page! Give it a click mon!
This page is in memory of a dear Canadian, Dorothy "Dot" Stevenson.
Click here for Translation






© Copyright 1998. Beingee's. All Rights Reserved.