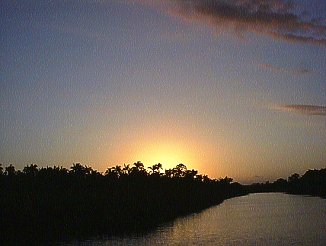 River Sunset
January 11th, 1998
Yesterday we mentioned that you can see some interesting birds and other wildlife when you take a relaxing journey up the Negril River. We didn't mention that you can also catch a spectacular sunset as this picture clearly shows. There is much to see and do in Negril - spend a week and explore! (Click on the picture to receive a larger copy of this picture suitable for your computer background!) News: we will be having our first LIVE AUDIO from the Thirsty Thursday Internet Pub Crawl! Join us in the Negril Chat Room on Thursday night and you will also hear us by using NetShow. Yah mon! More details coming. Back Ah Yawd is on break today but will return mon - no problem!
At 10:14am, blue and beautiful. The temperature is 80° F, 27° C.
Click here for Translation






© Copyright 1998. Beingee's. All Rights Reserved.