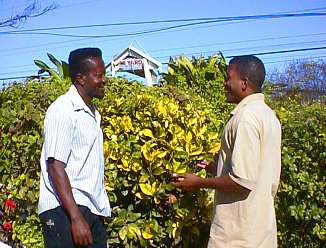 (setting: Delroy talks with Delroy from Mi Yard)
Delroy M.: Wha yu tink bout pub crawl?
Delroy: Mon!!! Irie mon!!!
Delroy M.: Di chat room mon!!!
Delroy: Mon mi nay know sey mon con chat tu peope dey way yah!!!
Delroy M.: Yu noh si notin yet!!
Delroy: Dey more stil lef fi com?
Delroy M.: Goh soh mon!
******************** Written and Directed by Delroy Mosley ********************
The daily Back Ah Yawd page is sponsored by Drumville Cove on the mystical cliffs of beautiful Negril Jamaica. If you watch and enjoy Back Ah Yawd, make your next stay in Negril be at Drumville Cove! Support those that support us mon! Be sure to say hi to Delroy while you are there! If you want to be a sponsor, bemail us.
© Copyright 1998. Beingee's. All Rights Reserved.