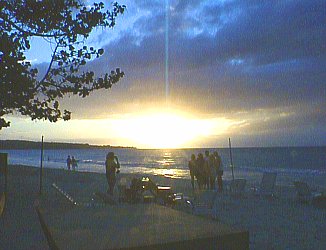 New Year Sunset
January 4th, 1998
This week's Sunday Sunset of the Week was captured on New Year's Day at the Spring Break '98 Headquarters - Risky Business on the beach! (Look for more Spring Break news soon mon!)
What a night! We had our weekly Internet Pub Crawl last night and even the rain couldn't keep them away! There was some great chat in the Negril Chat Room along with a few picture updates taken while we partied at Eddie's Tigress II. Thanks to all those who fought the rain and attended, and all those that waited around online for us to show up. Thanks mon! Back Ah Yawd never quite made it live last night - it was quite a party! Back Ah Yawd will return tomorrow. Irie!
At 9:13am, good party last night! The temperature is 83° F, 28° C.
Click here for Translation






© Copyright 1998. Beingee's. All Rights Reserved.