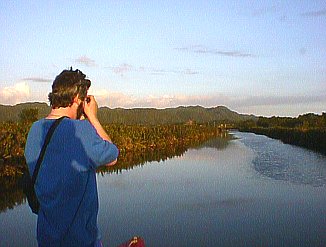 Up The River
January 10th, 1998
Negril has interesting things to see mon! Many of you are familiar with our magical cliffs and many more know our glorious seven miles of soft white sand. But did you know that you can take a relaxing journey up the Negril River and see some interesting wild life? Well you can mon! Check out a river tour on your next visit! Note: we had the first of our regular LIVE broadcasts last night! Prento at the Thatch Hut Bar and the rest of the gang helped us send out the first enjoyable internet audio signal off the island mon! Click here or on Previous to take a look mon! Finally, Back Ah Yawd continues at Mi Yard, click on Back Ah Yawd for the latest episode!
At 7:53am, morning sounds... The temperature is 72° F, 22° C.
Click here for Translation






© Copyright 1998. Beingee's. All Rights Reserved.