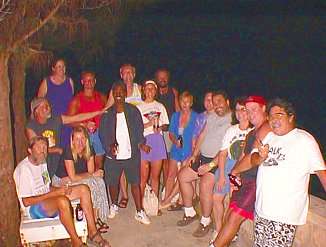 The Crawl in On!
January 22nd, 1998 7:24pm
We are having another great time at the Thirsty Thursday Pub Crawl! We have Brian, Lori, Gail and Paula, Pauly, Freddy, Renee, Toby, Rollerman and Marg, the Music Mon, the Pirate, Estelle and Michael at Tenby's Tigress 3 - R Bar for sunset. We will have many more with us at Travellers Beach Resort - and a special surprise for our Brazilian friends. We also hope to have our first Netshow Audio Broadcast - check the Negril Message for details. Back Ah Yawd moves, Delroy makes his way to Mama B's. Click on Back Ah Yawd to see what he has to say for today.
At 7:24pm, great times, great friends. The temperature is 80° F, 27° C.
Click here for Translation






© Copyright 1998. Beingee's. All Rights Reserved.