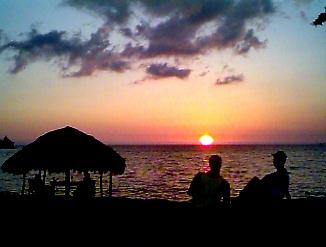 Mother's Day Sunset
May 10th, 1998
It was another great sunset last evening as we gathered with some old friends at the Negril Yacht Club. We had our Saturday Night Live broadcast from the Yacht Club, then we made our way to Cousin's Cove for a bashment broadcast from the country. Thanks to all who joined us online. Note: since today is Mother's Day, I have a special page for my Mom (and anyone else who wants to see/hear it). Years ago, my brother and I had a band called White Ash. A friend recently came down and brought me a copy of one of our old cassettes - so I have placed one of our tunes on this website - for my Mom to be able to click on anytime! Click here for the page, or check our Reference section and then choose "What is Beingee's?". Keep looking for more and you will eventually find the page. I hope everyone enjoys it! Back Ah Yawd will be back tomorrow!
At 10:18am - Happy Mother's Day! The temperature is 86° F, 30° C.
Click here for Translation






© Copyright 1998. Beingee's. All Rights Reserved.