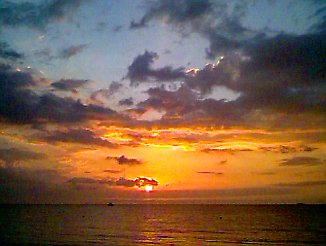 Tuesday's Sunset
May 3rd, 1998
We started our Sunday Sunset of the Week in order to try and bring you just a little closer to our tropical island paradise situated on the western most tip of Jamaica. Please note, each Sunday you can click on the word "sunset" and it will take you back to the previous week's Sunday Sunset of the Week! If we can locate a boombox this afternoon, we will be broadcasting IRIE FM over the NEN this afternoon - around 3:00pm or so, ending by 7:00pm or so. Check the Negril Message Board (found on our Main Menu) for details. Note: Back Ah Yawd will be continuing with a new story line, soon come mon! In the meantime, you can check out the any of our past 1998 Negril Today pages in our Reference section - if you haven't already, give it a click!
At 7:37am - an early morning in paradise. The temperature is 78° F, 25° C.
Click here for Translation






© Copyright 1998. Beingee's. All Rights Reserved.