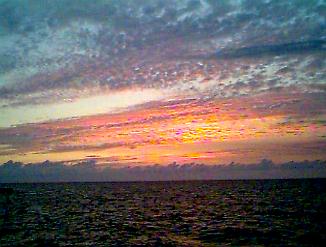 Sunday Sunset of the Week
April 26th, 1998
Today's Sunday Sunset of the Week was taken last Wednesday just aftr the sun had set into the Caribbean. By the way, today's page will be a little shorter than usual - it was one heck of a party last night at Travellers Beach Resort - they threw one wicked bashment to send the Pirate off right! We will be having a couple pictures from the party on Monday and Tuesday - so be sure to check back to see Estelle and Pirate dancing on the bar! Note: the Thirsty Thursday Internet Pub Crawl will continue this coming Thursday at Jamaican Price Restaurant and Bar. Ms. U will be our host - stop by an say hi this Thursday (the 30th) at the Jamaican Price Restaurant and Bar (located between Mi Yard and the Negril Yacht Club starting around sunset. We will then crawl up our the Cliff Paradise known as the West End to visit the Lighthouse Village. We will try to be live again on Sunday at sunset from the Negril Yacht Club - but I no longer have access to Pirate's PC. Hopefully we will work something out! Back Ah Yawd is working into a new story line, so it will be starting back up on Monday. In the meantime, you can check out the last installment by clicking here or on Back Ah Yawd above or below!
At 10:02am - a calm morning in Negril. The temperature is 85°, 28° C.
Click here for Translation






© Copyright 1998. Beingee's. All Rights Reserved.