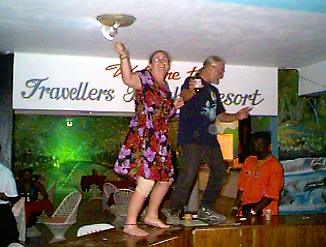 Crazy Times
April 27th, 1998
As promised in yesterday's Sunday Sunset of the Week page, we told you we would me bringing you just a few pictures of the festivities from Pirate's Farewell Bashment at Travellers Beach Resort. It was a crazy time as you can tell from this picture! Note: in addition to the new Pub Crawl 2 on Tuesday at Travellers, the Thirsty Thursday Internet Pub Crawl will continue this coming Thursday at Jamaican Price Restaurant and Bar. Stop by and say hi to Ms. U at the Jamaican Price Bar (the 30th - located between Mi Yard and the Negril Yacht Club starting around sunset. Since my PC is still out of commition, Back Ah Yawd is continuing to work on a new story line, so it will be starting back up soon. In the meantime, you can check out the last installment by clicking here or on Back Ah Yawd above or below!
At 1:41pm - a fresh tuna sandwich for lunch. The temperature is 89°, 31° C.
Click here for Translation






© Copyright 1998. Beingee's. All Rights Reserved.