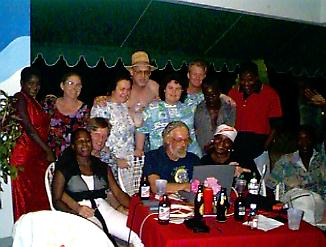 Travellers Times
April 28th, 1998
Yesterday's picture would not be complete without a picture of the entire crew as they gathered around the computer on Pirate's Farewell Party at Travellers Beach Resort. Note: We will be having our first Pub Crawl 2 on Tuesday at Travellers, be sure to join us around 6:00 sunset JA time (same as Chicago time zone). We will be bringing your more tunes, good times and chat live from the beach at Travellers. A big up to Sharon V. Parris-Chambers for the use of her Fujitsu Lifebook! Hopefully my new laptop will arrive tomorrow?!?!? Since my PC is still out of commition, Back Ah Yawd is continuing to work on a new story line, so it will be starting back up soon. In the meantime, you can check out the last installment by clicking here or on Back Ah Yawd above or below!
At 2:19pm - a perfect sea breeze... The temperature is 85°, 29° C.
Click here for Translation






© Copyright 1998. Beingee's. All Rights Reserved.