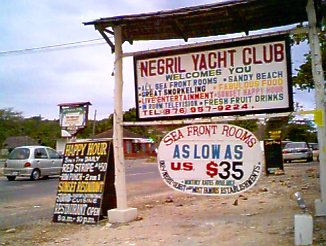 Yacht Club Night
May 2nd, 1998
It is Saturday Night so we must be getting ready for our weekly live NEN (Negril Entertainment Network) from the world famous Negril Yacht Club set on the sea of the sparkling Caribbean. As you can see from this picture taken around 5:00pm this evening, the Yacht Club has some extremely affordable sea front rooms available this spring and summer season! To contact the Yacht Club, you can email them directly at negrilyacht@cwjamaica.com - let them know you saw (or heard) them on Beingee's! Thanks mon! Join us Saturday night starting around sunset - details will be posted on the Negril Message Board (found on our Main Menu). See you then! Note: Back Ah Yawd will be continuing with a new story line, soon come mon! In the meantime, you can check out the any of our past 1998 Negril Today pages in our Reference section - give it a click!
At 5:43pm - an overcast evening. The temperature is 81° F, 27° C.
Click here for Translation






© Copyright 1998. Beingee's. All Rights Reserved.