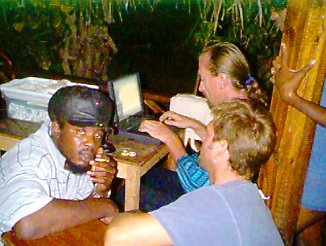 Friday Night Live
May 1st, 1998
Prento (left) invited us to his Thatch Hut Bar on Friday Night to broadcast some of the wickedest tunes live from Negril Jamaica! He is shown here with Luc from Canada and yours truly at the keyboard of my brand new laptop! A big thank you to all those who helped, especially my patron saint - Chuck at the Negril Yacht Club! Make sure to stop by Yacht Club and tell him thanks for me! Note: we will be live at the Yacht Club starting around 6:00pm Ja time - sunset on the Caribbean! Wish you were here - but since you aren't, join us the NEN - details will be posted on the Negril Message Board. Back Ah Yawd is continuing to work on a new story line, so it will be starting back up soon. In the meantime, you can check out the last installment by clicking here or on Back Ah Yawd above or below!
At 10:45am - a cool, breezy morning... The temperature is 85°, 29° C.
Click here for Translation






© Copyright 1998. Beingee's. All Rights Reserved.