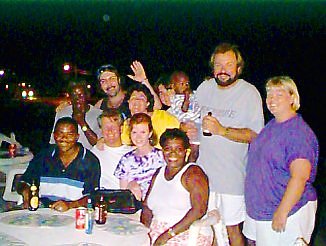 The New Thirsty Thursday Pub Crawl
April 30th, 1998
The new Thirsty Thursday Internet Pub Crawl started off with a great group of online friends from all over the world. Canada, the US and even Brazil was represented at the new starting point for the Thursday Pub Crawl - the Jamaican Price Restaurant! Look for us each and every Thursday in the pink building located between Mi Yard and MXIII on Negril's famous West End! We will be getting started around sunset, so Miss U (seated, center) wants to invite you all to stop in early for dinner! From what I know, the chicken was fabulous! Since my PC is still out of commition, Back Ah Yawd is continuing to work on a new story line, so it will be starting back up soon. In the meantime, you can check out the last installment by clicking here or on Back Ah Yawd above or below!
At 10:23am - a relaxing morning... The temperature is 85°, 29° C.
Click here for Translation






© Copyright 1998. Beingee's. All Rights Reserved.