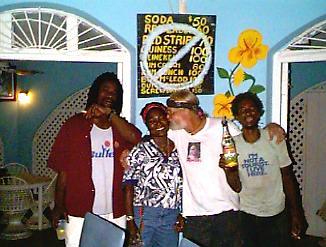 Pirate's Pub Crawl
April 23rd, 1998
It is 2:21am in the morning on Friday as this week's Thirsty Thursday Pub Crawl draws to an end. From what the Pirate informs me (the one kissing Nicey), it was quite a party! Adriana, Music Mon, Estelle, Miss U, Lonnie, Delroy, Rasta Julie, Garth, Mike in NH, Mr.Slice, Jane K, the Space Cowboy, Captain Loyd, Old Roy, Michael, Prento, Vivian,Tony and Kelly and about a hundred more attened. Your's truly overslept and didn't make it until around 2:00am - and I barely captured this picture of Michael, Nicey, the Pirate and Old Roy. Captain Lloyd cooked up some tasty jerk chicken as the Pirate passed on the Pub Crawl torch to Miss U. She runs the NEW starting point for the Thirsty Thursday Pub Crawl. Look for the Negril Crew to bring you next week's Pub Crawl from the Jamaican Price Restaurant and Bar - located easily between Mi Yard and the Negril Yacht Club! The Pirate will be joining us online from the Great White North, so be sure to tune into the NEN next Thirsty Thursday from the Pub Crawl at Jamaican Price! The NEN will be live again on Saturday Night from Travellers Beach Resort and the again on Sunday ive from the Yacht Club with a very special guest! Note: Back Ah Yawd is working into a new story line, so it will be starting back up soon mon. In the meantime, you can check out the last installment by clicking here or on Back Ah Yawd above or below!
At 2:21am - what a blowot. The temperature is 79°, 26° C.
Click here for Translation






© Copyright 1998. Beingee's. All Rights Reserved.