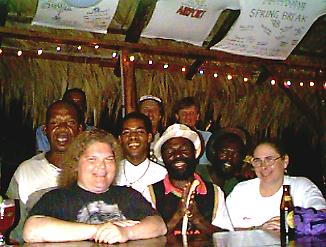 The Pub Crawl Crew at the Yacht Club
April 16th, 1998
The Thirsty Thursday Internet Pub Crawl took the Crew to the famous Negril Yacht Club on it's weekly journey through Olde Negril. We were treated to some tasty fajitas courtesy of the Yacht Club! What a night and what a feast! Note: We will be broadcasting from the Negril Yacht Club starting around 6:00pm JA Time for sunset - be sure to join us on the NEN! Details will be posted on the Negril Message Board. See you there mon! Back Ah Yawd taking a well deserved rest - look for a new story line starting soon mon. In the meantime, you can check out the last installment by clicking here or on Back Ah Yawd above or below!
At 3:00pm, afternoon clouds are building over the mountains. The temperature is 90°, 33° C.
Click here for Translation






© Copyright 1998. Beingee's. All Rights Reserved.