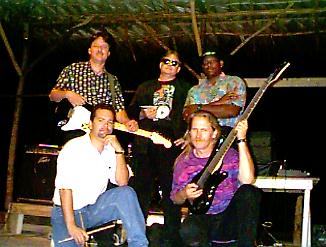 After Midnight
April 17th, 1998
Negril has hosted some of the best blues this past week at the Sunset Show at Mariner's Inn. After Midnight, shown here after their Friday night performance, played some great sets of classic blues tunes - the tunes that influenced both rock and reggae! Dave (right - with the bass) and his wife Kathy are on their second visit to the Sunset Show - Dave played last year with Timberwolf! Glad to have you both back mon! Note: On Saturday night we will be broadcasting from the Negril Yacht Club starting around 6:00pm JA Time for sunset - be sure to join us on the NEN! Details will be posted on the Negril Message Board. See you there mon! Back Ah Yawd taking a well deserved rest - look for a new story line starting soon mon. In the meantime, you can check out the last installment by clicking here or on Back Ah Yawd above or below!
At 3:12pm, afternoon is warm. The temperature is 92°, 34° C.
Click here for Translation






© Copyright 1998. Beingee's. All Rights Reserved.