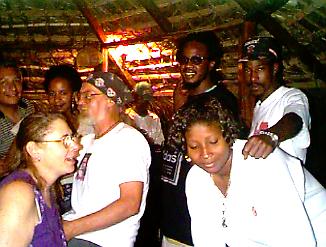 Thatch Hut Friday!
April 18th, 1998
Friday night was hopping at the Thatch Hut Bar on Tigress Lane! Prento had the party going late into the evening and we broadcast the festivities live on the NEN (Negril Entertainment Network). A Big Up to Prento and all his crew for all their help! Irie mon! Join us Saturday night on the NEN, we will be broadcasting from the Negril Yacht Club starting around 6:00pm JA Time for sunset! Details will be posted on the Negril Message Board. See you soon mon! Back Ah Yawd taking a well deserved rest - look for a new story line starting soon mon. In the meantime, you can check out the last installment by clicking here or on Back Ah Yawd above or below!
At 3:35pm, a lazy afternoon by the pool. The temperature is 90°, 33° C.
Click here for Translation






© Copyright 1998. Beingee's. All Rights Reserved.