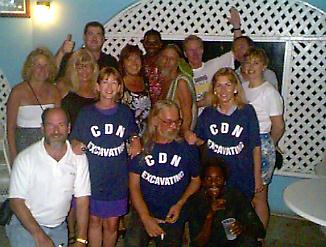 The Crew!!!!
April 9th, 1998
We have been joined by many friends from all over the planet tonight for the Thirsty Thursday Internet Pub Crawl! Our live broadcast and chat from the Tenby's Tigress 3 - R Bar is a wild and crazy event! Note: all of us in Negril send our respect to the great music performer, Tammy Wynette, she brought joy to the world! Back Ah Yawd is back today, click here or on Back Ah Yawd for today's episode!
At 9:01pm, a great time of the year! The temperature is 79°, 26° C.
Click here for Translation






© Copyright 1998. Beingee's. All Rights Reserved.