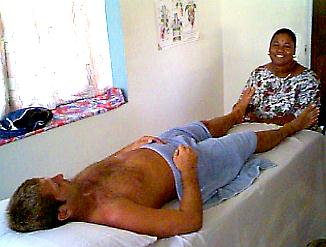 Relaxing Ways
April 8th, 1998
After spending the morning on the beach, nothing feels better than an afternoon body massage! (well, almost nothing...) One of the Certified Massage Therapists in Negril is Sharon Young-James shown here starting on a second massage in a week for Luc from Canada! If you are interested in locating Sharon, be sure to look her up at Travellers Beach Resort in the Beauty and Body Shop. Sharon also does facials, waxing, manicures and pedicures, hair braiding and my personal favorite - reflexology! More ways to relax in tropical Negril. Back Ah Yawd is back today, click here or on Back Ah Yawd for today's episode!
At 8:26am, a great time of the year! The temperature is 79°, 26° C.
Click here for Translation






© Copyright 1998. Beingee's. All Rights Reserved.