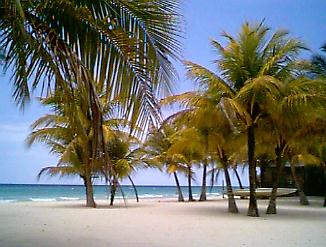 Tropical Days
April 7th, 1998
Spend the morning sipping on a cup of Blue Mountain coffee - then take a leisurely stroll along our soft white sands until you find a small bar or tree to stop and relax. Have yourslf a cold Red Stripe and sit back and contemplate nothing at all. Just you, the sand, the breeze and your thoughts. Relaxing Negril Style. Note: keep checking the Negril Message Board for our upcoming live events on the Negril Entertainment Network (NEN). We should have something for you on Tuesday, Thursday, Friday, Saturday and Sunday! Nearly a full week mon! Join us! Back Ah Yawd is taking a break for a few days. Soon come mon!
At 8:40am, blue sky above! The temperature is 79°, 26° C.
Click here for Translation






© Copyright 1998. Beingee's. All Rights Reserved.