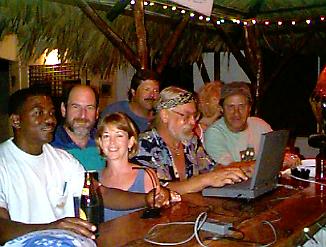 Yacht Club Live
April 6th, 1998
On Saturday night we had our weekly live broadcast from the Negril Yacht Club on the Negril Entertainment Network! It was a great time as we were joined by Beth and the Cincykid - from Cincinnati, USA! Today's picture shows the crew gathered around Pirate and his computer (yes, I am still on a borrowed machine at this point - thanks for your understanding on the late pages sometimes). Be sure to join us again next Saturday night - same time - same channel! Note: if you missed it, click on Previous to see the Sunday Sunset of the Week. Back Ah Yawd is taking a break for a few days. Soon come mon!
At 7:33am, a perfect morning! The temperature is 78°, 25° C.
Click here for Translation






© Copyright 1998. Beingee's. All Rights Reserved.