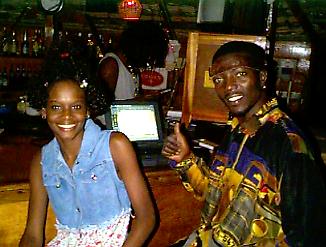 Friday Night Late!
May 9th, 1998
Last night at the Friday Night NEN Live event from the Thatch Hut Bar we had a great group online with us in the Negril Chat Room! Those listening to our broadcast heard Niki (left) do the play by play with Prento (middle - back) selecting the tunes. Soloman (right) provided the late night bartending duties - which came in very handy - keeping the place supplied with free-flowing cold Red Stripe and hot Guinness! It was an irie evening! Note: we will be live tonight with a special NEN (Negril Entertainment Network) - live at Bailey's Party at Cousin's Cove. For those who don't know, Bailey is the bartender at the Negril Yacht Club! Check the Negril Message Board later Saturday evening for details on how and when to join us for our late night broadcast! Back Ah Yawd is still on break - it will be back soon! For yet more to click on, be sure to visit our Travelers Section - which features things like our Guest Gallery and other areas of interest to travelers!
At 10:18am - a calm, blue sea... The temperature is 86° F, 30° C.
Click here for Translation






© Copyright 1998. Beingee's. All Rights Reserved.