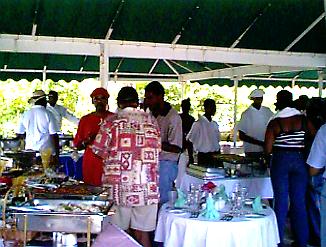 Negril Chamber of Commerce 15th Anniversary Beach Party
May 11th, 1998
On Sunday, the Negril Chamber of Commerce celebrated it's 15th Anniversary at Long Bay Beach Park on the beautiful beach of Negril. There was a wide selection of fine dining (as shown here) featuring samples from many of Negril's most popular restaurants. I know that the judges (front - left) must of had a hard time choosing a winner - I couldn't make up my mind which I liked the better! News: Back Ah Yawd is back today - Garth Beckford is handling the writing and directing - featuring a new storyline - give it a click (above or below) and keep following it everyday! Irie!
At 9:50am - a slow moving blue sea. The temperature is 86° F, 30° C.
Click here for Translation






© Copyright 1998. Beingee's. All Rights Reserved.