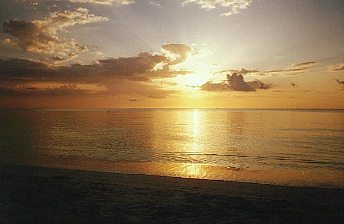 Sunset of the Week
October 26th, 1997
It is Sunday so we have a new Sunset of the Week for you. It was a hard decision - we received so many email entries that we just had to pick one of them. This week's sunset was sent in by Adriana from Brazil. She took this picture of another spectacular Negril sunset from the beach at Kuyaba. Adriana is returning in November - we will try to link up with her on her next visit and get her on the net mon! Thanks to all the other entries, look for your pictures later this week mon! As a special bonus, you can click here to get a larger version of this sunset to be used as a Windows Background (be sure to convert the JPG to a BMP after saving the file). Irie! In today's Back Ah Yawd, Delroy looks over the new Back Ah Yawd Wristbands at Serious Chicken. Click above on Back Ah Yawd for latest mon!
At 7:19 am, sun is climbing over the palms. The temperature is 75° F, 23° C.






© Copyright 1997. Beingee's. All Rights Reserved.