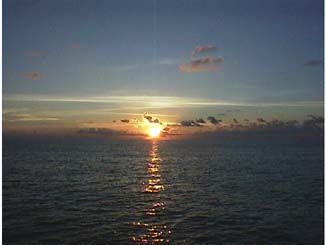 Sunset of the Week
October 19th, 1997
Today we have a special Sunday Sunset of the Week for you mon! We are experimenting with some video and audio features, click here to see a moving sunset in an AVI file format (300+K), or here for a smaller QuickTime MOV file format (180K). Both video clips should be the same - this picture is courtesy of Drumville Cove, located on the majestic cliffs of Negril's famous West End. Let us know which format (AVI or MOV) you prefer. Thanks mon! Yesterday we featured a series of audio clips LIVE from the Grand Opening of Club Palm at Travellers Beach Resort - click here or on Previous to sample them (keep clicking on Previous to see further clips). Back Ah Yawd is on break today. Click above on Back Ah Yawd for the Back Ah Yawd index pages!
At 3:10 pm, amazingly blue waters... The temperature is 90° F, 35° C.

© Copyright 1997. Beingee's. All Rights Reserved.