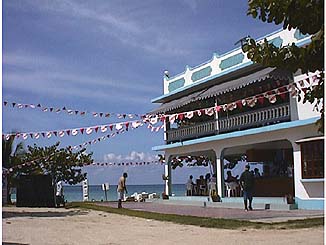 Party Weekend
October 20th, 1997
We had a busy weekend mon - we have some audio and video clips from the Grand Opening of Club Palm at Travellers Beach Resort (Click for clip#1, clip#2, clip#3, clip#4 or clip#5 - note: clip#4's audio cracks, the volume was very loud - and clip#3 is for the guys out there!). Be sure to keep clicking on Previous above to check out all the action this weekend. We also have a special Sunday Sunset of the Week for you mon! Check it out along with the clips from CLub Palm! Let us know what you think, we are still experimenting with the new hardware and software. Back Ah Yawd is on break today. Click above on Back Ah Yawd for the Back Ah Yawd index pages!
At 8:42 am, starting another week in paradise. The temperature is 78° F, 25° C.

© Copyright 1997. Beingee's. All Rights Reserved.