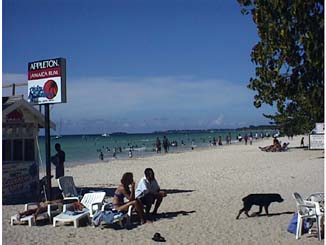 Heroes Day
October 21st, 1997
It was a busy day on the beach yesterday as Jamaicans celebrated the national holiday - Heroes Day! Heroes Day is in rememberance of those people that struggled to make Jamaica what it is today. Jamaicans from all over the island came to enjoy the beautiful beaches of Negril. Today's picture, courtesy of Risky Business, was taken yesterday just before sunset at Risky Business, looking north toward Booby Cay. The cool Caribbean waters satisfied young and old alike. Note: Back Ah Yawd is back with Delroy and Jervis continuing their conversation at The Golden Apple. Click above on Back Ah Yawd for the latest mon!
At 10:44 am, perfect in paradise. The temperature is 88° F, 31° C.

© Copyright 1997. Beingee's. All Rights Reserved.