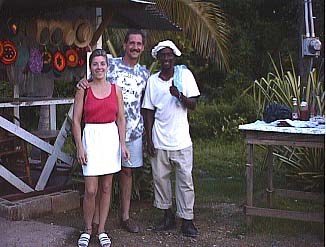 Lynn and Rick
October 22nd, 1997
Last weekend we had fun running into some new friends from the USA. Meet Lynn and Rick from Manchester, New Hampshire. We were all relaxing at Devon's Jerk Chicken and sampling the incredible jerk sauce that Devon uses on his chicken. Look for Devon across from Mariner's Inn! Note: On Sunday's Sunset of the Week, there is a background sound of the waves on the cliffs. Load the page, and then minimize the browser window. Open a new browser window and you can continue your surfing while listening to the sound of sea! Irie! Back Ah Yawd is new today with Delroy and Lorna discussing Heroes Day at Chef's Restaurant and Bar. Click above on Back Ah Yawd for the latest mon!
At 8:39 am, another fine day... The temperature is 80° F, 27° C.

© Copyright 1997. Beingee's. All Rights Reserved.