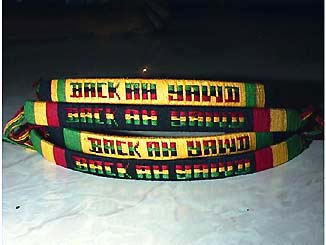 Show Your Support
October 23rd, 1997
If you are one of the daily readers of Negril Today and Back Ah Yawd, have we got some news for you! Many of you have been asking how to support Beingee's and the people of Negril - we have idea mon! For each JA$200 (US$6) donation, you will received one of these beautiful Back Ah Yawd wristbands. They can be directly purchased by their creator - a young man by the name of Dipswitch. Dipswitch can be found at Serious Chicken on Negril's famous West End. Look for Dipswitch and his bands and show your support for Beingee's and Negril mon! Note: For Netscape users, we fixed our Sunday's Sunset of the Week. Mona from the USA pointed out a problem so we now have a looping background sound of the waves from the cliffs. Load the entire page, and then minimize the browser window. Open a new browser window and you can continue your surfing while listening to the sound of sea! Irie! In today's Back Ah Yawd, Delroy and Lorna are still discussing Heroes Day at Chef's Restaurant and Bar. Click above on Back Ah Yawd for the latest mon!
At 6:46 am, a quiet morning in Negril. The temperature is 78° F, 26° C.

© Copyright 1997. Beingee's. All Rights Reserved.