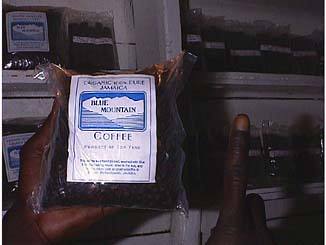 Coffee Break
October 24th, 1997
Here is some of Jamaica's world renown Blue Mountain Coffee. This coffee is hand-picked, washed with Blue Mountain spring water, dried in the tropical sun and then hand-roasted over an open woodfire in Section, Portland parish. You can find this coffee at Top Yard Products at Serious Chicken. An we have a serious coffee offer for you. Gladstone of Top Yard wants you to know that he has an incredible Beingee's Internet Special for you - buy 10 pounds, get a great price! Buy 20 pounds and get and even better price! The price per pound is so low that we cannot mention it here. But you can find it at Serious Chicken - across the road from Drumville Cove. In today's Back Ah Yawd, Delroy discusses food with Gladstone at Serious Chicken. Click above on Back Ah Yawd for today's episode mon!
At 6:53 am, water calm on the cliffs. The temperature is 79° F, 26° C.

© Copyright 1997. Beingee's. All Rights Reserved.