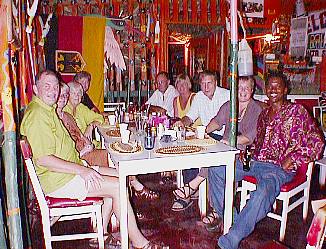 Alice and Company
October 25th, 1997
Yesterday Karen and Angie inquired on the Negril Message Board about how Alice and her family and friends are doing in sunny and warm Negril. Apparently they are doing great mon! Alice and her friends came all the way from Denmark to celebrate an 83rd birthday. Here is Alice (second from the left) and her company enjoying some of Gladstone's Blue Mountain coffee after a great meal at Serious Chicken (the birthday girl is next to Alice - third from the left). Click here to hear a greeting from Alice! In today's episode of Back Ah Yawd, Delroy continues talking with Gladstone at Serious Chicken. Click above on Back Ah Yawd for latest installment!
At 7:35 am, the water is calling. The temperature is 79° F, 26° C.

© Copyright 1997. Beingee's. All Rights Reserved.