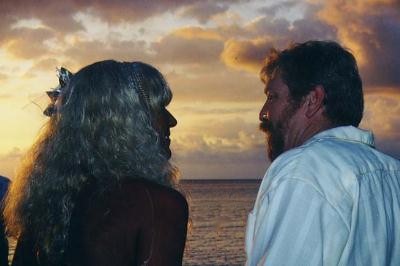 Sunset Wedding
October 27th, 1997
Like we mentioned yesterday, this week's pick for the Sunday Sunset of the Week was a difficult one! There were several beautiful ones in Negril this past week. But the real problem was with all the incredible sunsets that you sent in for us to enjoy! We had many more sent to us than we could use last week, so we thought we would feature some of them this week. Here is one sent in from the USA! Here is Cindy and Fred, at their sunset wedding taken back in January on the beach at Whistling Bird. Today's Back Ah Yawd continues with Delroy and Dipswitch looking over the new Back Ah Yawd Wristbands at Serious Chicken. Click above on Back Ah Yawd for latest episode mon!
At 8:32 am, blue, just blue mon! The temperature is 80° F, 27° C.






© Copyright 1997. Beingee's. All Rights Reserved.