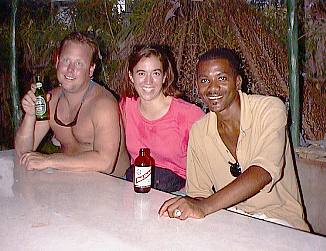 Outer Banks Folk
October 28th, 1997
Mark and Whitney are visting Negril from Outer Banks, North Carolina. They are shown enjoying a cold one with Delroy at one of Negril's most popular place to hang out on the West End - Serious Chicken mon! Note: we have been updating our website and we would like your opinion before we make anymore changes. What do you think of the changes so far? Let us know by bemailing us! Also, Roots Bamboo is launching their house new band - the Hurricane Band! We will be at the Hurricane and Yellowman show at Roots Bamboo on Wednsday night so look for an audio clip from the show on Thursday morning mon! In today's Back Ah Yawd, Delroy is hungry for some ackee and saltfish for breakfast. See what he does by clicking above on Back Ah Yawd!
At 8:32 am, blue and 27° again! The temperature is 80° F, 27° C.






© Copyright 1997. Beingee's. All Rights Reserved.