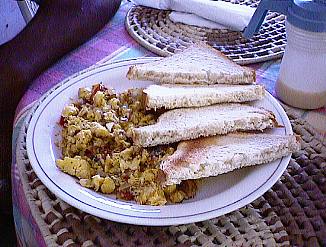 Breakfast
October 29th, 1997
Our national dish, ackee and saltfish for breakfast mon! What a way to start the day! On your next visit, be sure to try our national dish and experience the taste of Jamaica mon! Picture courtesy of Delrose's Restaurant on the West End, across from Mariner's Inn. Note: we have been experiencing some problems with the Message Board, it should soon be fixed mon. Also, we've been updating Beingee's - www.negril.com website and we would like your opinion before we make anymore changes. What do you think of the changes so far? Let us know by bemailing us! Finally, Roots Bamboo is launching their house new band tonight! We will be at Roots Bamboo tonight so look for an audio clip from the show on Thursday morning mon! In today's Back Ah Yawd, Delroy has had his ackee and saltfish for breakfast. See what he does next by clicking on Back Ah Yawd!
At 7:50 am, having breakfast at Chef's. The temperature is 82° F, 28° C.






© Copyright 1997. Beingee's. All Rights Reserved.