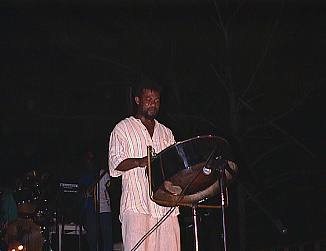 Steel Mon!
October 30th, 1997
One of the true sounds of the Caribbean is the alluring sounds made by the uniquely designed steel drums! We got this picture last night at the launching of the new house band at Roots Bamboo's Reggae Seaside Bash! As a special gift, Roots Bamboo would like you to hear a small sample from last night's show - click here to hear the steel drums mon! Note: we've been updating Beingee's - www.negril.com website and have been adding little sections of Java code. If you are experiencing any unusual behavior of the website, please tell us mon! Java is turning out to be a bit of a headache. Let us know us know what you think of the changes by bemailing us! And last but not least, we have a special star in today's Back Ah Yawd. Click on Back Ah Yawd to see what famous celebrity Delroy is visiting with today. Irie!
At 8:02 am, blue, calm and perfect. The temperature is 82° F, 28° C.






© Copyright 1997. Beingee's. All Rights Reserved.