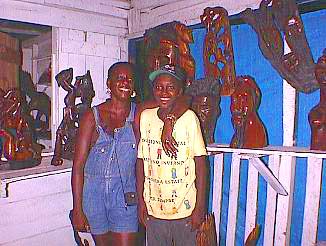 Faye and Ruben
October 31st, 1997
On the Negril Message Board (find it from our Main Menu) this past week, Lori and Bronwyn were discussing Faye, Ruben and Dr. Quality (see the "New Graphics" 10-23/24 thread on the Message Board). We weren't able to find Dr. Quality, but here is a shot of Faye and Ruben at Faye's Gift Shop located next to Serious Chicken between Drumville Cove and Mariner's Inn. As Bronwyn mentioned, Ruben would be more than willing to trade one of his wristbands for an old Gameboy cartridge. And a note from me - maybe throw in a set of batteries or two (rechargable?!!?). They never seem to last long enough. (Just like everywhere!) We have another special Back Ah Yawd today. Delroy continues his talk with the world famous entertainer Yellowman at Roots Bamboo's Wednesday Night Show. Click on Back Ah Yawd to see more mon!
At 6:45 am, the sun is warming the morning. The temperature is 76° F, 24° C.






© Copyright 1997. Beingee's. All Rights Reserved.