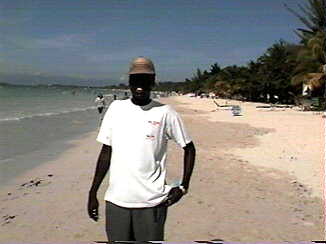 Red Stripe Crew

26th, September 1996

As we make our past Tony's Hut, we run into Everton, one of the Red Stripe Cruises Crew. He is constantly joking with me about the Internet. Let's turn the joke back on him. Please print out this page and on your next visit drop the printout off at the Red Stripe Cruises Booth or the Boat Bar. Thanks mon! Be sure to check out our Page #2!


At 6:47 am, no rain yesterday after all. The temperature is 76° F., 25° C.