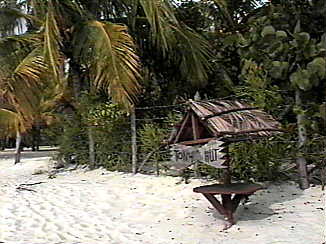 Little Hut

25th, September 1996

Reaching the midpoint of the week, we might as well turn around and end this little tour we started on Friday. Heading back south from Firefly, we stop at a few places we missed on the way up. Today's shot is of Tony's Hut, a very fun place to waste the day. Trust me. (The actual "hut" is much larger.) It is next to Mariposa. Yah mon! *Note: Here's the second part of yesterday's Negril Graffiti! Thanks Mr.Phil. Click on!


At 7:41 am, looks like the rain will hit early mon! The temperature is 78° F., 25° C.