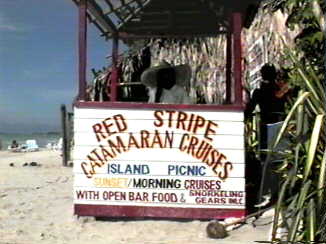 Tour Continues

21st, September 1996

After leaving Tek-A-Set, before you get to Sonia's, there are a few spots I failed to point out yesterday. We pass Maximum Respect Max at Rondel Village - and then we meet Myrna of Red Stripe Cruises, as shown today. Myrna and friends can help arrange a day at sea, be it a island picnic or a sunset cruise. Right next to the Boat Bar. Irie.

At 6:54 am, clouds off to my south. The temperature is 76° F., 24° C.