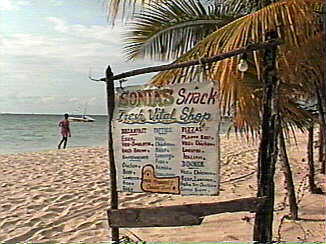 More Beach Tour

20th, September 1996 Continued

If you still have room for food after trying the jerk chicken at Tek-A-Set, or if you are looking for something a bit different, try Sonia's Snacks, as shown on the beach. It's just a short stroll (a few feet really) from Tek-A-Set's place. Irie.

At 7:24 am, a quiet, calm, cloud free morning in Negril. The temperature is 78° F., 26° C.