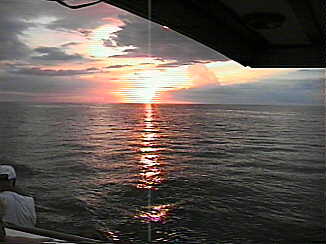 Sunset At Sea

19th, September 1996

Today's picture is Tuesday's sunset as seen aboard the luxury yacht, Checkmate. We were out at sea enjoying an evening cruise. What a way to spend an evening. Cruising the Caribbean with the Capt'n and his crew! News: Today we have another Back Ah Yawd! Friday's winner was August from Lake Tahoe. I owe him a drink at the Charela Inn. And check out our new Traveller Info Menu. Let us know if you like the format. We are thinking of using it for our new main menu...


At 8:24 am, cloud free and beautiful. The temperature is 80° F., 27° C.