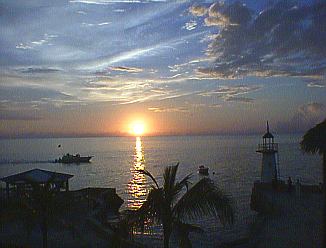 Sunset of the Week!
November 23rd, 1997
Last night we had a great party with the Pirate and Estelle at R Bar at Tigress III! We would like to thank everyone for showing up on our pub crawl around Tigress Lane. We visited Mama B's and Mario's - and ended the evening at Mi Music Yard. We brought it to you live on the website starting at Risky Business for the Michigan vs. OSU USA College Football matchup. If you weren't with us, you can see what you missed by clicking on Previous and go back through the last 4 pages. Each time you click on Previous, you will go back to the previous page in order, as we put them on the net! The Pirate has informed me that we are doing this again next week. See you right back here next Saturday night mon! Note: Today's Sunday Sunset of the Week is brought to you by the fine folks at Mariner's Inn - picture taken on last Monday. In today's Back Ah Yawd, Delroy continues at Miss Spycie's Shop across from Mariner's Inn. Click on Back Ah Yawd for the latest!
At 9:26 am, Beautiful Blues! The temperature is 82° F, 28° C.






© Copyright 1997. Beingee's. All Rights Reserved.