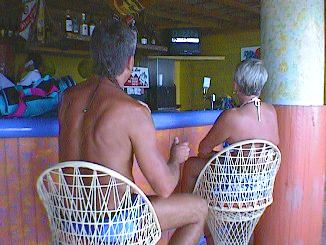 Live From The Beach
November 22nd, 1997 LIVE 4:30pm
We are live from the beach in Negril today for the first of our Beingee's Internet Gatherings. We have been experimenting with the camera this afternoon at Risky Business with Jerry and Nancy from Pontiac, Michigan, USA. They stopped by for the USA College Football rivalry - the University of Michigan against Ohio State University. Needless to say, with John Cooper at the helm - OSU lost another one to the men up north (picture taken just as Michigan scored their second touchdown). Oh well - at least Cooper can't take the memories of Woody and Earl away...
Look for us LIVE tonight (Saturday) - starting around 5:30 pm JA time - we will be at Tigress III with Pirate and the gang so tune back in then mon! In case you missed today's regular page, be sure to click here or above on Previous to let you know about the music news in Negril!And don't forget, in Back Ah Yawd, Delroy drops by Miss Spycie's Shop across from Mariner's Inn. Click on Back Ah Yawd for the latest episode!
At 4:30 pm, see you at the pub crawl at about 5:30. The temperature is 90° F, 32° C.






© Copyright 1997. Beingee's. All Rights Reserved.