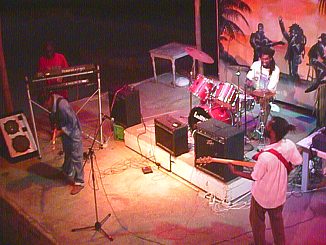 Music News
November 22nd, 1997
There is some great music news in Negril mon! The winter season is just about here - it officially starts on December 15th and the music is getting hot, hot, hot mon! The West End nights are heating up, we have heard from extremely reliable sources that the legendary Sam Sara is starting back up their live concert series on the cliffs with Pinchers on November 24th! Keep watching the Shows & Events listing for more. Roots Bamboo has shows planned with Junior Reid on December 24th and the I-Three's on New Year's Eve. Beenie Man will be playing at MXIII on December 29th. We are hoping to be able to bring you the audio from one of these concerts LIVE, let us know what you think mon! Today's picture is brought to you by Mariner's Inn. In Back Ah Yawd, Delroy drops by Miss Spycie's Shop across from Mariner's Inn. Click on Back Ah Yawd for the latest episode!
At 7:06 am, see you tonight at the pub crawl. The temperature is 79° F, 26° C.






© Copyright 1997. Beingee's. All Rights Reserved.