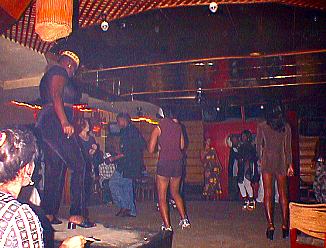 Compulseion
November 21st, 1997
The Guinness flowed freely last night as Delroy and I partied it up at the disco near the center of town - Compulseion! Elise Kelly of IRIE FM was the guest DJ for Thursday Night DJ Bash - held every Thursday at Compulseion. If you haven't stopped in, you are missing a great time mon! We would like to thank the management for all their hospitality last night. What an evening! And a personal apology for any of that late night drunken email I may have sent out... ;-) News: Check out the new Negril Chamber of Commerce message if you haven't already done so. In today's Back Ah Yawd, Delroy and Robert discuss dolphins and more at Mariner's Inn. Click on Back Ah Yawd for the latest installment mon!
At 9:55 am, out too late to be up this early. Temperature is unknown.






© Copyright 1997. Beingee's. All Rights Reserved.